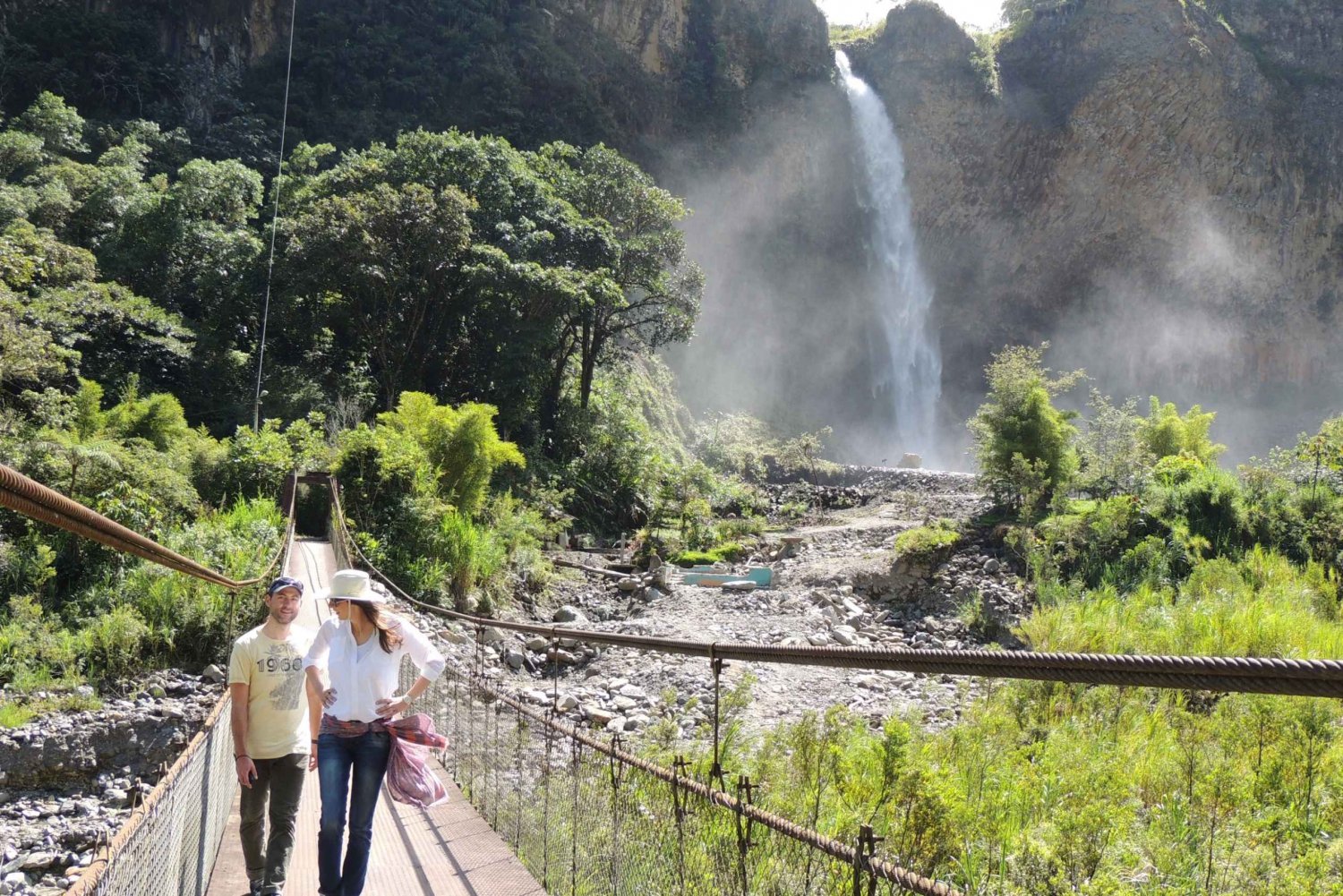 Event Details
Highlights
Drive through the Avenue of the Volcanoes and admire stunning mountains
Take exciting walks through pristine tropical rainforests full of vegetation
Practice exciting adrenaline sports right in front of towering waterfalls
Discover friendly and welcoming people and learn about local lifestyles
See the world-famous Devil's Cauldron waterfall and take in gorgeous scenery
Description
Enjoy a unique day trip to Baños de Agua Santa, and see the beautiful volcanoes of Ecuador, waterfalls, the cloud forest, and the Ecuadorian Amazon Rainforest. Visit Baños de Agua Santa, a city located at 1,820 meters above sea level (5,971 ft), south of Quito on the north-eastern flanks of the Tungurahua Volcano (5,000 m / 16,404 ft), with natural hot springs downtown, and a natural entrance to the Ecuadorian Amazon Rainforest. Be picked up at 7:30 am from your hotel in Quito to start an incredible adventure. Admire beautiful volcanoes on the way, like Antisana, Los Ilinizas, Cotopaxi, and Tungurahua. Arrive to start a walk through the charming streets of Baños around 10:15 am, and take time to visit the monastery of the 'Virgin of Agua Santa", and see paintings that describe different eruptions of the Tungurahua Volcano, whose volcanic activity started again in 1999. Drive towards the beautiful and stunning "Avenue of the Waterfalls"; beginning with a stop in front of the Agoyan Hydroelectric Dam, and walk towards the local community of 'Río Blanco' to appreciate the beauty of the cloud forest. Cross the Pastaza River Canyon on a cable car that rides a 500 meters-long-cable to visit the 'Manto de la Novia' waterfall, learn all about the local people's lifestyle, and take a hike down to the river. Stop at the viewpoint of the 'San Jorge' waterfall, and recover energy with a tasty lunch. Visit the world-famous Devil's Cauldron or 'Pailón del Diablo' waterfall, and see some of the Amazon's vegetation. Arrive back in Quito approximately at 6:30 pm, after having enjoyed more than four different microclimates on the same day.
Includes
Private Transportation Certified English speaking guide Entrance fees
Important Information
This tour will take place rain or shine.
Easy cancellation
Cancel up to 24 hours in advance for a full refund