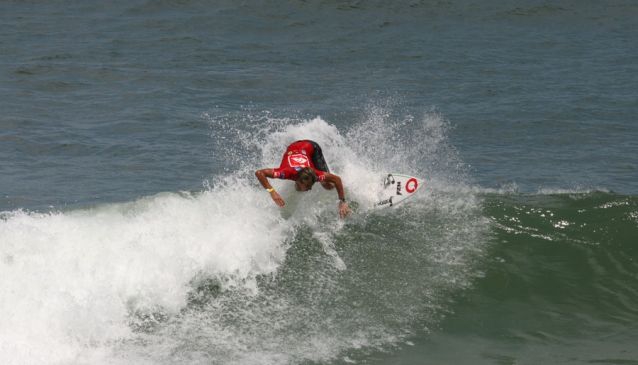 A Surfing Haven
Adventure
Ecuador is...becoming increasingly visited by international surfers from around the world.
Ecuador's more than 400 miles (640 kilometers) of coastline, from the Colombian border in the north to the Peruvian frontier in the south, is dotted with dozens of spots to practice one of the most popular marine sports of our times: Surfing. Some of the places are mainly used by local surfers while others are becoming increasingly visited by international surfers from around the world. Surf is picking up in the Galapagos Islands too and, particularly in and around San Cristobal Island, there are good surfing locations. The frequent staging of national, regional or international Surfing tournaments and other such events speaks of Ecuador as a world class Surfing destination. A good evidence of this is the fact that this year, the International Surfing Association, (ISA), in alliance with Ecuador's Surfing Federation, staged the World Masters Surfing Championship 2013 (WMSC) in Montañita, Ecuador's Surfers Mecca and flagship surf location.
Here is our pick of the five best Surfing havens along the coast of Ecuador, from south to north.
This is a quaint and picturesque fishing village located about one and a half hours from the seaport of Guayaquil and less than 20 minutes from the popular beach resort of General Villamil-Playas. A pleasant year-round weather averages 23-25 degrees Celsius and it seldom rains. Located at a secluded corner of the Gulf of Guayaquil, Engabao's Right Point Break works well in conjunction with the South and South West Swells and the best months for surfing here are March to October. A good place for beginners with plenty of action for the more advanced. Occasional weather conditions may call for some precautions as there are rocky reefs and part of the waves run into rugged coastline. Some small boards and other accessory rental outlets are available and rustic local eateries offer delicious local cuisine. The nearby Resort of Playas has a good hotel and lodging infrastructure, plenty of restaurants, shopping markets and a small measure of night life. Access is very easy.
FAE are the Spanish initials for Ecuadorian Air Force. This is because the surfing location's land access requires passing through the military installations of an Ecuadorian Air Base and a special permit is required (not complicated to obtain). The venue is located at the southern tip of Salinas, Ecuador's largest, most popular and antique beach resort, located at the westernmost point of the country's coastal profile, in the Province and Peninsula of Santa Elena, less than two hours by fine motorway from Guayaquil. With balmy weather ranging between 22 to 32 degrees Celsius, the waves' characteristics for Surfers here feature a Left Point Break, running for between 100 to 400 meters and working best in conjunction with South and South West Swells. There is also a three kilometer long Beach Break, available mostly all year. Salinas is a vibrant coastal city with abundant hotels, restaurants, bars and a lively night life, particularly between December and April (also considered as the most recommended surfing months here).
This is Ecuador's "jewel of the crown" for Surfing and seat to the last World Masters Tournament, just one week ago. Montañita ("Little Hill") is a picturesque village rapidly turning into a Surfers Mecca, located in the heart of the coastal "Route of Sunshine" or "Route of the Spondylus", on Ecuador's coastal Province of Santa Elena. Adding to the natural beauty and idyllic surroundings, the surfing conditions are top class and continue to lure larger crowds of national and foreign surfers because of its consistent and good-caliber tubular waves. Montañita boasts a Perfect Right Point Break, ideally activated by Northern or South West swells, with runs up to 250 meters long. Best surfing time for this area, according to experts and particularly due to wind conditions are the months of December to April. Climate is pleasant and temperatures range between 22 and 32 degrees Celsius. Easily reachable by good quality roads, a little less than three hours is the travelling time from or to Guayaquil. Montañita teems with hotels and small hostels; restaurants, dozens of outfitters shops; rental outlets; surfing lessons and instructors; a wide variety of souvenirs and handicrafts plus a second-to-none night life with bands, music groups, national and international concerts and sunset to sunrise partying.
Further north, strategically located at one extreme of the City of Manta, Ecuador's second largest seaport and second most important coastal city, is El Murciélago Beach. Thirty minutes by air from Quito, the capital city of Ecuador, to Manta or three hours away by good road from Guayaquil; El Murciélago offers surfers a two kilometer long beach with a good Beach Break, best triggered by Northern and South Western swells. Best months for surfing here, according to the experts, are between December and April. The wave runs can go from 50 to 100 meters. Depending on seasonal conditions and varying sea conditions, some days can work well for beginners, while others will only work for experienced surfers. Easily accessible by land, sea and air, Manta is a bustling sea port with an ample hotel and services infrastructure, great restaurants and beachside food and beverage kiosks, and very lively night life. Temperatures range between 27 and 32 degrees C, with a somewhat windy and overcast season from June to November and sunny, hot and potentially rainy periods between December and May.
At the northern end of Ecuador's coast, the Province of Esmeraldas offers great beaches and resorts, particularly popular with Quiteños and also with Colombian tourists. Thirty minutes by plane or five hours by good road from Quito provide access to Mompiche. For surfing, its highlight is the very long runs, from 500 to 1.000 meters and the waves feature a Perfect Left Point Break, activated by Northern or South Western swells. Best time for surfing here is from December to February. Considerably hot and tropical it may rain heavily particularly between March and April, with temperatures occasionally reaching over 30 degrees Celsius. The whole area is filled with hotels, hostels, condos, restaurants as well as with tourism and surfing services and specialty shops. Night life is intense at certain locations like the nearby town of Atacames.