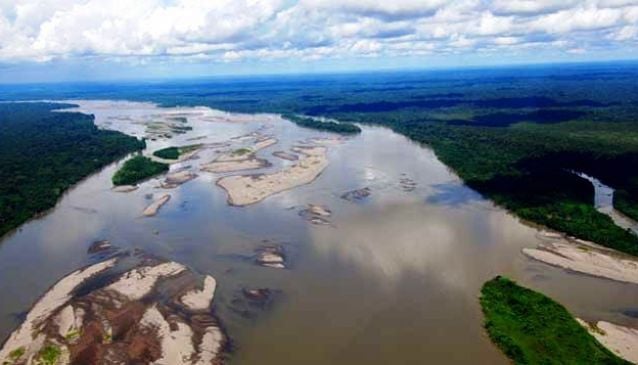 Discovering Ecuador's Amazon Rainforest
Adventure
A flock of red cheeked parakeets fly overhead as if heading for the sunset...
The mid-size jetliner, a Brazil built Embraer 170, seemingly brand new, takes off from Quito's international airport and rapidly heads east as it climbs to its cruising altitude. Just a few minutes later, our attention is caught to the left hand side of the aircraft by Mount Cayambe, one of Ecuador's magnificent volcanoes, towering over 19,500 feet above sea level, displaying its massive summit perpetually covered with snow and millenary glaciers. We learn that the equatorial line, the imaginary border which divides the planet into two hemispheres, passes right over the volcano, the highest point crossed by the latitude zero of our earth.
As we begin leaving behind the placid mountain scenes of the Ecuadorian Andes, the view changes rather rapidly to new, entirely different, yet also spectacular scenery: the westernmost edges of the immense Amazon rainforest. A clear day with no clouds allows for a brief view of Reventador, a young and quite active volcano located on the eastern flanks of the Andes, its barren lava fields evidence of recent activity. Soon we are flying over a green "ocean" of vegetation, mostly flat and occasionally crossed by serpent-like winding rivers. It is, of course, the mighty Amazon rainforest fully alive. The sight is stunning, as far as our eyes can see the gigantic forest stretches in all directions and my mind cannot help but marvel over such a sea of green. I cannot wait for our Amazon rainforest tour.
As we start descending we can see one of the most important tributaries of the Amazon, the Napo River, its brown waters winding across the greenery and looking wider and more impressive as we descend closer to touchdown on the airstrip. We land at Francisco de Orellana, more commonly known for decades as El Coca. As the doors of the plane open, a wave of heat invades the cabin, telling us that the 36° Celsius weather announced from the cockpit was no joke. The heat as we deplane, the bright morning sunshine, the humidity and the smell of trees and thick vegetation all around us, tell us that we are not dreaming. It took just 30 minutes from Quito and we are now in the Amazon region for the most spellbinding of Ecuador tours.
El Coca is a bustling river port, one of the main hubs for commerce and tourism in Ecuador's Amazon rainforest; a huge marketplace filled with hundreds of pick-up trucks, shops, stalls, vendors and buyers busily going about their Friday market day. A small local bus takes us to the port where we board large dugout canoes, made, we are told, from one single tree bark, masterpieces of riverside engineering and river navigation craftsmanship. The dugouts are powered by outboard motors, four stroke types, meant to reduce contamination. The canoes have canvas roofs with roll-up canvas sides, complete with plastic windows in the event of rain, and the wooden seats offer small cushions to make the voyage more comfortable. Life vests are obligatory, distributed by the crew and guides, and the river craft will not move until everyone on board is safely kitted out.
Finally we are all set, and the guides tell us the length of the Amazon River tour and give us some safety tips and regulations. They also tell us to keep our eyes alert, as anytime during the one and a half hour voyage to our first stop we may see birds, river creatures or other interesting elements. As the dugout picks up speed and the boatman skillfully manages his way through a winding and unmarked water path that he knows by heart, we start seeing, as in a motion picture, the rainforest going by at both river banks. The "green ocean" we were seeing from the airplane is now closer to us, but now its giant trees are just alongside the river shores. Soon we will be venturing into one of the most remarkable hot spots of biodiversity on the planet. Freddy and Maria, our young naturalist guides who love the environment they inhabit, point out at two scarlet macaws noisily crossing the Napo river from north to south, a brief yet fantastic view. As the canoes come closer to shore we can see the giant buttresses of the bigger trees and the maze of vines and vegetation which compose the green ocean.
A bountiful buffet lunch introduces us to some of the local gastronomy, such as "palmito" (hearts of palm) salad and many delicious fruits. We take a short stroll around our pretty and comfortable jungle accommodation gardens and, with no time to waste, soon get on our way for our first outing to tour the rainforest.
Rubber boots are distributed to help us walk on occasionally muddy or slippery terrain and our day packs carry insect repellant, bottled water, our cameras, including plastic bags for the eventuality of rain or water spray as we navigate downstream, and, of course, our binoculars. We board the dugout canoes again for a short ride down the Napo River, to the opposite bank. We disembark at a small river cove and make our way through the muddy shoreline into a jungle trail which will take us on our first direct encounter with the magical world of the world's largest rainforest.
Divided into smaller groups, led by Freddy and Maria, we start marching through the trail. Even before they start explaining many fascinating facts about the rainforest, our own senses of sight, sound and smell are telling us in many ways that we have entered a unique and different world. The gigantic mass of green flora comes alive as we learn about the various levels of vegetation, sheltered by the highest canopy, sometimes over 80 meters above the fragile floor, thus the enormous buttresses which support the bigger kapok or ficus trees. The forest teems with life in multiple forms, and we find ourselves animal watching in the Amazon. Colorful butterflies cross our path. We stop to watch an army of hundreds (if not thousands) of small leaf-cutter ants busily carrying small leafs over their minuscule bodies, to the maze of galleries where they will process the leaves into a vital food source for themselves.
Along a large tree branch, covered with ferns and moss, several "surgeon" ants march, while we learn about the cycles of life, how decaying matter turns again into living organisms. The interrelations of light, water, plants, animals and the rest of the elements are an unbelievable mix of pure biological fact and a touch of magic. Suddenly we are startled by loud sounds, and then when they come into view, the amazing antics of a group of wooly monkeys. They put on a live show of acrobatics for us (we wonder if they are paid tour staff), before they disappear leaping from tree to tree, not without having tossed seeds and small fruits right over to us, a gesture of either hostility or simple play. A large and bright blue morpho butterfly impresses us for several minutes with its brilliant glow and colors.
Now it's time for bird watching in Ecuador; we have come to the edge of a small waterway and soon, just following their peculiar sounds, we can see several hoatzins clumsily perched over tree branches, an impressive bird which is a reminiscent of some prehistoric winged reptile, this one wearing a distinct crown of yellowish feathers on its head. These birds still have claws at the edge of their wing feathers, which helps them climb back to safety if they fall to the ground where they would be easy prey for other animals. Near the top of some tall "pambil" palm trees, the hanging nests of the noisy and beautifully colored oropendolas are one more fascinating sight. We can see several of the birds, a combination of dark black and bright yellow, coming and going from their most peculiar nests. A flock of red cheeked parakeets fly overhead as if heading for the sunset, perhaps to remind us that it is time to make our way back to the river shore to cross back to our lodge after this short yet truly memorable first encounter with the Amazon rainforest. This has been one of the most unique and awe-inspiring tours of Ecuador.