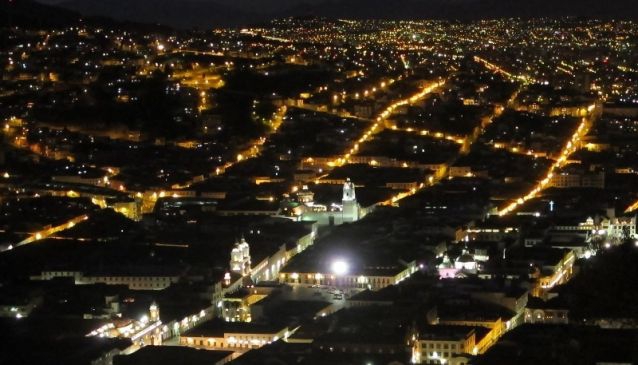 One Week in Ecuador
Editorial
The Andean region is a must ... because Quito, the country's capital city, is its centerpiece...
A friend asked me recently, "If a first-time traveler to Ecuador had only one week to spend in the country, what would you recommend to make the most of his stay?" As much as I think you definitely need more than one week to see all there is to see here, this situation is very possible, so here are my recommendations of itineraries to get the most and best of Ecuador in one week.
Ecuador being a small country, roughly the size of the United Kingdom in Europe or the State of Colorado in the U.S., the distances are relatively short and it is easy to travel within, aided by an ample network of good quality roads and daily air services to around a dozen destinations. Within its small territory, there are four very distinct natural geographic regions, often referred to as "worlds", due to their stunning diversity: the Andes, the Amazon Region, the Pacific Coast and the Galapagos Islands. Despite the proximity in distances, it makes no sense to try to see all four regions in one week as one would only get a glimpse of each. The diversity in geology, scenery, climate, flora, fauna, and culture results in countless attractions and destinations well worth exploring, seeing and enjoying. And this would require more than a week.
But let's get to the point. The Andean region is a must in whatever itinerary one chooses, mainly because Quito, the country's capital city, is its centerpiece, for which at least one full-day should be spared. Quito was the historic capital of the legendary Pre-Incan Quitu Empire; later, it became the northern capital of the mighty Inca Empire and then, one of the most prosperous centers of art and culture during the days of the Spanish Colony. The capital of the independent and democratic Republic of Ecuador since 1830, Quito boasts the privilege of being the first city in the planet designated by UNESCO in 1978 as a World Cultural Heritage Site, and it is internationally recognized as the city with the largest and best preserved Historic Center of Latin America. In addition to the Historic Center and all of its monuments, colonial squares and streets, Quito is also a modern, bustling city, with ample avenues, numerous parks, dozens of varied and fascinating museums, art galleries, handicraft markets, modern shopping malls, business centers, international-class hotels and restaurants, and is located at one of the most spectacular natural settings of the Americas. And this brings to my mind one necessary warning: Quito is at 2800 meters above sea level, so, if you are not used to altitude and/or your heart is not in a great condition, take it easy at least the first day!
With this said, the recommendation would be to choose an itinerary that combines the Andean region with one of the three remaining regions, the Amazonia, the Galapagos Islands or the Pacific Coast.
ANDES AND AMAZONIA
This is perhaps one of the most common combinations of two regions for a one-week visit to Ecuador.
The Andes cross the very center of Ecuador, like a perfect backbone, from north to south. Two parallel ranges, featuring colossal snow-covered volcanoes and peaks, leave a relatively narrow stretch in between, made of mountainous valleys and plateaus ranging from 1000 to 3500 meters above sea level. This is the awesome Avenue of the Volcanoes, as it was described by the German geographer and explorer Alexander von Humboldt.
Just minutes north of Quito, is the Middle of the World City, a tourism complex built around the monument that marks the Equator (Latitude 0°0'0"), within which you can find an Ethnographic Museum, a planetarium, restaurants, handicraft shops, and more.
Within a few hours from Quito, exploring the Avenue of the Volcanoes, National Parks, colonial haciendas converted into charming country hotels, indigenous markets and handicraft centers, and picturesque towns, or enjoying a variety of adventure sports and activities can occupy a couple of busy extra days. Some of the most notorious highlights of this region are the Province of Imbabura (also known as the "lake province"), with its sparkling lagoons at the foothills of imposing volcanoes; the famous Otavalo indigenous market; the Cotacachi leather goods, and Peguche's textiles. Towards the south, a scenic train ride (Tren Ecuador) or a visit to the Cotopaxi National Park are always superb experiences, and to the north-west of Quito, the Mindo cloud forest, a "hot-spot" of bio-diversity and a recognized bird-watching paradise, also offers sports like tubing and rafting in its many rivers, and zip lining and canyoning in the forest. In Imbabura and Cotopaxi, the haciendas and various tour operators have great horseback riding, biking and trekking options.
An intense three days in Quito and its surroundings is frequently combined with a four-day visit to the Amazon Rainforest. A few hours by road or a thirty minute domestic flight by jet aircraft will bring you to the unique world of our planet's main lung and largest rainforest, a wonderland of nature where National Parks and Ecological Reserves boast myriads of the most amazing plant and animal species, a true explosion of life, ready to be observed and enjoyed. Awesome rivers, hidden waterways, wetlands and ancestral indigenous communities are part of this unique experience of exploring some of the most remote and pristine corners, yet easily accessible in Ecuador, of the huge and fantastic Amazon Rainforest. Dozens of package alternatives that combine tours with full-board accommodation in Jungle Lodges of varied types and prices, riverboats, or even some camping or community-based lodging can be chosen from to make the best of the unique Amazonian experience.
ANDES AND GALAPAGOS
Even though four days is an absolute minimum stay in the Galapagos Islands, it is feasible and can be combined with an intense two or three days in Quito and its surroundings, around the Avenue of the Volcanoes, as described above. In this case, a useful recommendation is to do first Quito and the Andes and leave Galapagos for the last part of the trip.
In Galapagos as well, there are countless alternatives to choose from. For a short stay, perhaps the best option is to take a four-day/three-night cruise on one of the many and varied live-aboard vessels with equally varied itineraries available. It will give you more islands and locations in less time as compared to a land-based program. The different options of cruise vessels go from small to mid-sized, from tourist-class to luxury, and in the form of yachts, catamarans or sailing boats with diverse levels of comfort, facilities, frills, services and prices. The alternative of a land-based program, using a hotel in one of the few inhabited islands and taking daily tours and outings either within the same island or to nearby islands, is also valid for a short visit just keeping in mind, as mentioned before, that one doesn't get to see as many locations as on a cruise.
All itineraries are strictly regulated by the Galapagos National Park and most of them, if not all, are usually a good "sampler" of some of the most representative elements of the Galapagos uniqueness. Even if just on a few-days quick visit, the magic of the Galapagos will certainly enchant the visitors and leave them with a strong desire to return to see more, to see it all.
One final tip for those choosing this combination: arrange for returning from the islands to Guayaquil rather than Quito, and spend the last overnight in Ecuador in its main seaport. An afternoon tour of this scenic, exotic and fascinating city, with its famous Waterfront along the immense Guayas River and its colorful colonial neighborhoods of Las Peñas and Santa Ana Hill is well worth it. You can find top-class hotels, business facilities, restaurants, arts and crafts, shopping and entertainment here. And you would have added one more location to your tour, departing Ecuador from Guayaquil's modern and comfortable international airport.
ANDES AND COAST
If you'd rather reserve the Galapagos and/or the Amazon Region for a longer visit at another time, this last combination with Ecuador's Pacific coast can provide once again several great alternatives.
For this one, I suggest adding one day to the Andes to include: a train ride across the thrilling "Devil's Nose" zig-zag descent (Tren Ecuador) and at least a one-day visit to the southern city of Cuenca, a colonial gem, also a World Cultural Heritage Site and center of fine handicrafts, lovely landscapes, abundant cultural expressions, and colonial and modern art. Cuenca can be reached by a 30-minute flight from Quito.
This leaves three days to enjoy the coast's sights and activities. Keep in mind that the warm and sunny weather on the coast goes from December to June approximately; the rest of the year, it might be cloudy and a little chilly, especially along the coastline. There, the undisputed must is certainly the bustling and picturesque seaport city of Guayaquil, already mentioned above. A little over one and a half hours drive from Guayaquil, starts the so-called Sunshine Route or Spondylus Route (the E15 road), over 900 kilometers of endless beaches, fishing villages, towns and archaeological sites and some of Ecuador's most delicious gastronomy. The starting point of the route is the resort city of Salinas. From there, you drive north passing through several popular sites: the internationally recognized surfing haven of Montañita; Puerto López, the nation's whale-watching capital during the humpback-whale season between late May and October, and a picturesque fishermen village; the Machalilla National Park and Los Frailes beach; La Plata Island (known as Little Galapagos); the historic and scenic city of Bahía de Caráquez with its nearby Isla Corazón Frigate Birds Sanctuary and Refuge or the La Segua Wetlands. From Bahía de Caráquez, which is about halfway along the Spondylus Route, you can drive back south to Manta, Ecuador's fourth most important city, to return your rental car, if that's the case, and take a flight back to Quito.
Here too, various options of lodging alternatives, touring, exploring and activities are offered, from plain relaxation in full comfort at all-inclusive Beach Resorts to nature exploration, hikes, visits to National Parks and archaeological sites, or paragliding, surfing, scuba diving, kayaking, snorkeling and other aquatic sports and activities. The choice is yours.
Whatever itinerary you choose, there are very good tour and package options available. Tourism has become an important sector in Ecuador in the last years; tourist facilities are becoming more and more abundant and the quality of service is improving continually. Most of the roads are in very good condition, the only drawback being that some of them might not have very good road signs.
Be prepared for a memorable week in Ecuador!