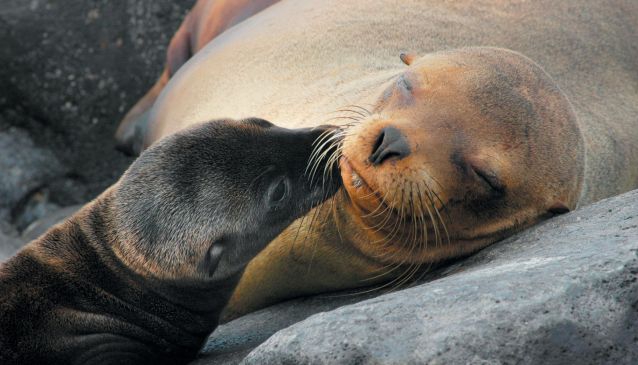 Visiting the Enchanted Galapagos
Adventure
The sea strikes us with several tones of turquoise colours...
Pleasant music coming through the Yacht's Public Address System wakes me up smoothly… I look around the beautifully appointed cabin and the light that filters through the curtains. An almost imperceptible rocking motion reminds me that we are at sea. The distant sound of the anchor being deployed into the ocean tells me we have arrived. A feminine voice comes over the loudspeaker and greets good morning to all the Yacht's guests, in four languages. Time to rush for a morning shower, what a privilege to have hot water. Poor Darwin, he must have had to endure plain cold water when he visited the islands aboard the HMS Beagle, two hundred years ago…
Breakfast congregates the guests in the dining room to enjoy a great buffet of fruits, cereals, yogurts, tropical fruit juices, breads, cheeses, ham, eggs… a delight to the eyes and the palate. A feeling of cheerfulness fills the room. Outside, through the large picture windows, we can see the silhouette of Española or Hood Island, framed by a turquoise sea and a shining coralline beach. We are looking at Gardner Bay, our visiting site for this morning. The staff are friendly and efficient; they make you feel at home while providing a better-than-first-class service.
We have been divided into three groups, each bearing a typical Galapagos animal name; we are the Albatrosses. Fully equipped with sunscreen, sunglasses, waist pack, conservation bag for litter, camera, binoculars and regular sandals (this morning we don't need walking shoes as we will remain on sandy areas), we wait for our call. The program features aquatic activities, so our mesh-bag with the snorkeling equipment must not to be forgotten. The Naturalists and officers coordinate everything with Swiss precision and soon our group of eleven passengers boards the motorized Zodiac dinghy. Ramiro, our young Naturalist Guide and Expedition Leader is a native from the islands, speaks perfect English and has tons of fantastic information about the islands which he transmits in a pleasant and charismatic way.
The sea strikes us with several tones of turquoise colors… Ramiro carefully instructs us on how to disembark on this which will be our first "wet landing". The Zodiac, masterfully manned by crewman Carlos, turns around and slowly maneuvers backwards into the sandy beach. We land from the dinghy's back, one at a time and with our life preservers on. We wade a few feet in ankle-deep water before feeling the "powdery" sand. We strip off our life vests which are taken back to the Zodiac while we gather to start a relaxed walk down the superb beach. A colony of sea lions placidly lies on the beach snoozing away with complete disregard of our presence. Occasionally, a sea-lion mum growls if we get a bit too close, just to tell us that it is her territory. A few pups try to nurse from their moms while others frolic in the water, surfing the waves… Closer to the vegetation strip, we find a few marine iguanas, quietly basking on a semi-shady place. Our guide points at some noisy mockingbirds, telling us it is an endemic species, only found on this island. Out in the bay, two islets will be the venues for our snorkeling later in the morning.
Back at the landing point, the Naturalists organize the options: a boat for the less experienced snorkelers, another one for the more advanced. A third option is a glass-bottom boat ride to watch, without getting wet, the awesome underwater life… There is even a fourth option, to sit and relax, or swim by the beach. I go for the advanced snorkel location, and, always accompanied and instructed by one of the Guides, we get to the southern wall of the larger islet. We jump directly from the dinghy for a memorable aquatic session, shared with hundreds of colorful damsel-fish, parrot-fish, king-angel fish, sergeant major fish, surgeon fish, yellow cup-coral plants, sea stars and even a curious moray-eel watching us from its rocky crevice. Young sea lions show up to play making fast passes around us, just for fun. Two Pacific green sea turtles idly cruise by. We could stay there forever… it is all so unique, so magical. Yet, the morning has gone by and it is time to get back to the yacht to enjoy the solarium, a refreshing drink, a shower and a magnificently presented and simply delicious buffet luncheon.
After a short break, we congregate again ready to land at a new location, at the westernmost tip of the same Island of Española: Punta Suarez. The afternoon instead features a fairly long walk, over rocky terrain (with good walking shoes on), to watch in awe a fantastic congregation of unique creatures: sea lions on the small sandy coves, large marine iguanas around the rocky shores, dozens of mockingbirds, the famous Darwin's finches, and scores of blue-footed boobies, right by the trail. Closer to the fabulous southern cliffs we find a colony of Nazca boobies with their white plumage and "masked" faces surrounding their pointed beaks. At the farthest point of the trail, we find the amazing Galapagos or Waved Albatrosses at their only nesting site on the entire Archipelago. They perform for us their elaborate and fascinating courtship dance: bill-fencing, goose stepping and sky-pointing, accompanied by peculiar sounds… The hours have gone by imperceptibly as if we had spent time on a magic time-tunnel. Back on board, sunset gives us moments of soothing relaxation. Later we gather at the main salon, to listen to the Naturalists' informative talk and briefing. And dinner is one more feast for the palate. It was just one more day in paradise…
If you liked Luis' cruise chronicle, you might want to learn more about the Galapagos Islands, or check our listings for cruise options.