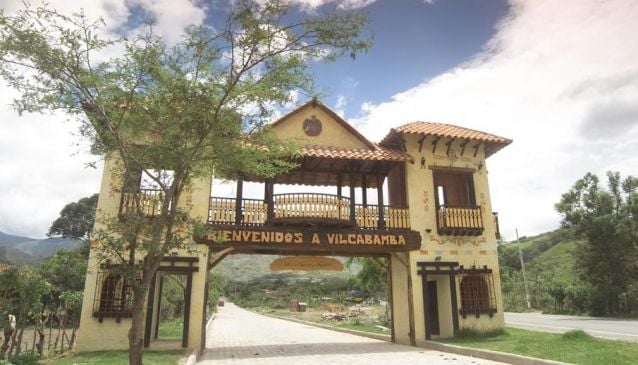 An Exceptionally Unique Place
Inspiration
...the placid, unhurried and relaxed pace of life, surrounded by beautiful sights...
If you think of a paradisiac place, where peace and tranquility coexist with natural beauty, a nearly perfect year-round temperate climate and medicinal powers attributed to its water and air, the place is Vilcabamba, a subtropical valley located some 4500 feet above sea level, in the Southern Andes of Ecuador, near the border with Peru. Vilcabamba became famous in the decade of the 1970's, when studies determined one curious feature among the inhabitants of the area: in average, a very high percentage of the population could live well over 100 years of age and continue to work and live like any adult in their fifties or sixties. Thus, it became known as the "Valley of Longevity".
The valley has its share of history: its name results from the fusion of the indigenous terms "huilco", the name of a native tree (now almost extinct) which was considered by the ancient cultures as sacred, and the Inca term "bamba", meaning a prairie, plain or valley. A variation of the name's origin refers to "wilka", which means "sacred" and the Kichwa word prairie or plain, thus turning into "Sacred Plain". Vilcabamba is located some 30 miles south of the charming colonial city of Loja, the southernmost provincial capital of Ecuador's Andean Region. Though remote, quiet and to some extent isolated, Vilcabamba is easily accessible and a mere two hours away from Quito, the capital city of Ecuador in the northern Andes, or the large seaport of Guayaquil on the Pacific coast, by means of a combined thirty to forty-minute flight by jet aircraft to the airport of Loja and then an extra hour and a half to Vilcabamba.
When the longevity factor was "discovered" almost accidentally by a team of visiting cardiologists, it prompted the organization of several medical and scientific missions to determine what made the Vilcabamba area a place with such a healthy population, where living over 100 years was normal. Missions came from Japan, Europe and the United States and, along with Ecuadorian experts, analyzed the living conditions of the inhabitants of the ancestral "Sacred Plain". The initial conclusions, widely accepted until present days, "put the blame" on an almost magic yet simple combination: top quality natural water from uncontaminated sources and bearer of beneficial elements for the body; uncontaminated fresh air; a spring-like permanent climate with mostly sunny days, predominantly dry conditions, average temperatures of 22 degrees Celsius, and crisp star-filled nights; and a healthy nutrition based on fresh and naturally grown vegetables, grains and fruits, rich in fiber and proteins and low in fats. All these added to the placid, unhurried and relaxed pace of life, surrounded by beautiful sights and scenes of mountains, hills, plains, cultivated fields, forests and rivers, sum up to produce a perfect combination of elements to foster longevity and good health.
Water deserves a special mention here. The experts have found that the waters of Vilcabamba's rivers are rich in magnesium and iron. They also contain active hydrogen which has two negative electrodes instead of one, creating a natural process in the body that cleanses it from the heavier minerals. Thus, water seems to be the main factor that fosters the "eternal youth" of this magic place's inhabitants.
Moreover, the whole area is one more of Ecuador's "hot spots" of biodiversity, home to unique species of animals and plants which draw the attention of experts and nature-loving tourists alike. The convergence of diverse habitats and micro-climates creates the ideal conditions for nature observation, whether trekking, biking, bird-watching, kayaking or, for the more adventurous, rock climbing at the imposing "Mandango" Hill, standing in the center of the valley like a giant man-made monolith of pure volcanic basalt and quartz stones.
A considerable offer of lodging options, from cozy hostels and country inns to lower budget boarding houses, as well as restaurants, guides, adventure sports outfitters and even some Spas are now available. Tourism is luring more visitors, which also means that some long-term management measures ought to be established and enforced, in order to guarantee sustainability to the area's unique natural and human conditions. As a tourist, it is your choice: if the idea is just to relax at one of the most placid and soothing locations on earth, you will find yourselves in heaven walking along a crystal-clear river framed by willow trees and green pastures, reading a book poolside with only the songs of birds as musical background, or wandering around the town's central square to meet the friendly and smiling elders who go on with their daily activities like the younger population. But if you are into adventure and action, there is plenty to do as well.
Currently, a rising trend of retirees looking for quaint, relaxed, inexpensive and healthy living places to establish, are placing their eyes and some investments in the Vilcabamba area to live and/or to start some area-appropriate business. According to unofficial 2012 statistics, close to five thousand inhabitants live in Vilcabamba, with an increasing component of foreign residents, in addition to the "floating population" of national and international tourists. To make the area even more interesting, half-way between the city of Loja and Vilcabamba you can visit the Andean part of the Podocarpus National Park, one of Ecuador's most important and bio-diverse. And forty-five minutes away, the city of Loja itself, with its colonial charm and eco-oriented city management is full of attractions, architecture, religious art and even Ecuador's first fully Aeolic Park, which provides clean energy to a vast area in and around the city.
Thinking of a different, inspiring, uncomplicated and fascinating vacation or a place to retire? Vilcabamba, Ecuador's Valley of Longevity, is a place to consider.