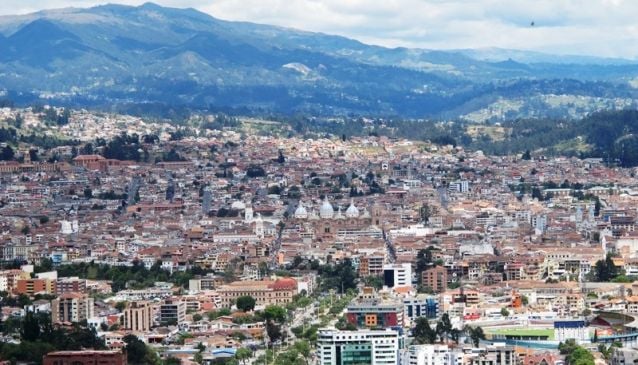 Cuenca, Ecuador
Editorial
The formerly 'convent-like' city is today a cosmopolitan urban center that vibrates day and night...
Cuenca, Ecuador's third largest city and situated in the Southern Andean region of the country, is going through a unique process of transformation. It is perfectly blending its strictly preserved old colonial architecture and character with a variety of elements that are transforming the two-decades ago "hidden gem" of Ecuador into one of the most popular travel destinations for voyagers of all ages, interests and origins. In fact, Cuenca is becoming a study-case due to its increasing popularity. Nestled in a scenically spectacular Andean valley, crossed by four rivers and surrounded by hills, mountains and amazing nature, Cuenca still maintains the grace of a small city with cobblestoned streets and colonial-style old and new homes with flowerpot-filled balconies. The city boasts since 1999 the title of UNESCO World Cultural Heritage Site. Its old neighborhoods include the blacksmiths' district, the bakeries' street, the dress-makers' district and others, all loaded with history and charm.
With new neighborhoods and housing developments, ample avenues, parks, mass transportation services, a renovated air terminal, a large bus terminal and a modern Tram system in the process of being built, Cuenca is clearly on its way to become one of the most stunning smaller cities in South America, with a host of new activities, investments, infrastructure and services to attract a varied rank of travelers.
Traditionally Cuenca has been and continues to be recognized as Ecuador's "capital of culture, arts and crafts". Frequently referred to by Ecuadorians as the "Athens of Ecuador", the city is home to some of the nation's most important writers, poets, former Presidents and numerous men and women of high relevance in the artistic, musical and cultural scene. Hence, it will come as no surprise to find that today's Cuenca, in addition to its colonial attractions, churches, convents, cloisters, plazas, monuments and museums, is also the site to numerous art cafés, constant and innovative theatre activity, galleries, cinema with a thriving trend for the post-modern "new cinema", new museums and art collections, and the venue for a universally recognized Biennial Painting Exhibition and Contest of world level. Acknowledged also as one of the country's top handicraft centers, Cuenca also boasts superb workshops, galleries and shops where painting, ceramic work, jewelry, embroidery and the finest textiles and woven garments (including lovely Ikat weavings) can be purchased at great prices, since they are made in the city or its nearby towns and villages. As if that weren't enough, Cuenca is also renowned for being one of Ecuador's two cradles of the world-famous "Panama hats" manufacturing centers.
If the cultural scene is intense and steadily growing, today's Cuenca is also modern and offers abundant entertainment for those who enjoy from an al-fresco daytime café, sundowners or, for the "night owls", a whole world of bars, from Austrian-style beerhouses to locally-made beer breweries and bars, live music from salsa to Andean sounds, modern discotheques, karaoke outlets, live shows and concerts. The formerly "convent-like" city is today a cosmopolitan urban center that vibrates day and night without affecting in any way the rich architectonic and cultural treasures of its Historic Center. Several of the entertainment venues can be found at charming locations like the old "El Barranco" neighborhood, overlooking the Tomebamba River, Cuenca's most important and centrally located river which traverses a good portion of the city. Cuenca's gastronomy is another big attraction in the city and surroundings. From the traditional-styled local culinary delights served at small and simple eateries, to gourmet type restaurants where young chefs thrive to provide locals and visitors alike with a varied and rich menu of gastronomic alternatives, most of them fantastic fusion dishes and signature creations which combine the ancestral with the modern, all feature the traditional hospitality of Cuenca's friendly and smiling people.
Numerous colonial or neo-colonial homes, beautifully restored, lavishly decorated and modernly equipped to serve as Boutique Hotels, as well as dozens of old-styled or modern hotels of all sizes, qualities and prices, all in tune with the city's overall character (no high-rise buildings), plus the magnificent Country Inns which are found in the surrounding valleys provide the visitors with an ample offer of lodging alternatives to stay in and around Cuenca.
While holding tight to its traditions and ancient roots, Cuenca is swirling to modernity with its important business centers, world-class shopping malls featuring international brands, advanced communications, internet services, cyber-cafés, technology services and equally world-class health care centers.
But there is much more to say about today's Cuenca: the prestigious North American "Outside Magazine", specialized in active lifestyles, trends, sports, adventure, health and travel has just designated Cuenca as the "World's Best Adventure Touring Hub 2014". The second place was awarded to Pahoa, Hawaii, leaving behind other destinations in Italy, Belize and Switzerland. As a previous step to Cuenca's designation as candidate to the award, one of the magazine's editors, Tim Neville, visited the city, motivated by its publicity as a great destination for a variety of sports and adventure activities. The selection was made following strict parameters which included the diversity of activities available, the beauty of the landscapes and locations, the interaction with the local culture and people, and the operators' and guides' experience, knowledge and attitude. The menu of sports and adventure activities found in Cuenca and its surroundings, provided by reliable and experienced local and national tour operators who know the area well, includes horseback rides, hikes and treks in the extraordinary Andean National Park "El Cajas" and fishing in the dozens of lakes found in the Park; extreme biking routes following ancient Inca trails; zip-lining; white-water rafting; paragliding; rock climbing, particularly at the stunning "Cojitambo" peak, less than an hour north of Cuenca; nature exploration and cultural experiences with the native communities.
This story cannot conclude without mentioning one of the factors that is fueling to a certain extent the positive transformation of Cuenca: the steady increase of an international community of "expats", mostly North American, Canadian and European retirees who have moved and are moving to Cuenca and its surroundings to "build" their homes. For the last six or seven consecutive years, specialized magazines, publications and agencies have listed Cuenca in the top five preferred retirement destinations by retirees from the mentioned regions, in search of a peaceful life, spared from the hustle and bustle of the large metropolises, with great year-round climate, and good, inexpensive living, as compared to North American or European standards. The availability of all the services needed to keep up with today's technology, communications, shopping, good and healthy eating and some top-class medical services, including cosmetic surgery and spas, add value to the destination. A whole universe of low cost travelling (for foreign standards) throughout the magnificent surroundings of Cuenca and its adjoining valleys, mountains and natural areas as well as through the immensely varied geography of Ecuador, the Andes, the Pacific Coast, the Amazon Rainforest and the Galapagos Islands, is also available.
In conclusion, Cuenca is nowadays a nearly magic mix of the old and the modern, of quaint and vibrant, and the epicenter of many activities sure to tempt all types of voyagers and interests, whether for a peaceful, cultural, active, adrenaline-filled or relaxing vacation, or even for long-term retirement.
To look at Accommodation in Cuenca, click here.
For Activities and Things to Do in the area, click here.
Check-out some Useful Info for traveling to Ecuador.