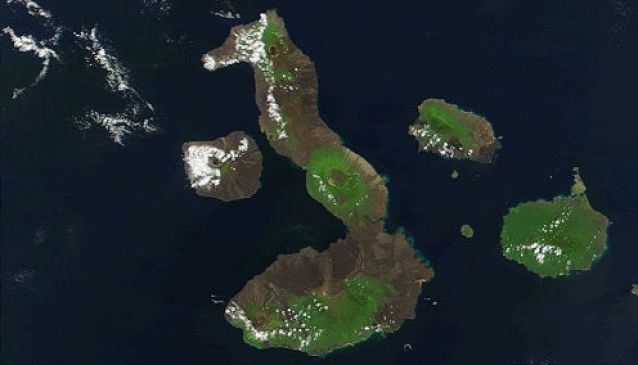 Isabela Island
Adventure
...simplicity, unhurried pace and quaint atmosphere, and the long stretches of white sandy beaches.
Until a few years ago, Puerto Villamil on south Isabela Island was a small and sleepy village, with a few hundred inhabitants, mainly dedicated to fishing and farming on the eastern slopes of Sierra Negra Volcano, one of the five colossi that form the largest of all the Galapagos Islands: Isabela. Tourist visits were infrequent and there was hardly anywhere to stay.
During the last five years, Isabela has become one of the most popular destinations within the famous Galapagos Archipelago. The local infrastructure features nowadays a number of hotels, including some which can comfortably fit in the "superior class" category; restaurants, souvenir shops and transportation services. The town's tourist dock is busy most of the day with visitors, mainly foreign tourists, coming and going incessantly.
While the Galapagos National Park has incorporated Puerto Villamil to the official fixed itineraries of some of the cruise vessels that regularly tour de islands, most of the current traffic is generated by the land-based touring modality which has grown considerably in the last years. Puerto Villamil is the center from which several excursions, terrestrial and aquatic, can be taken to enjoy some of the fantastic attractions that this part of the Archipelago has to offer. Here is a general overview:
HOW TO GET THERE:
If you are on a live-aboard cruise, Isabela might be included on your itinerary. You can also reach Villamil by air. Scheduled air services from the airports of San Cristobal and Baltra are offered on small 9-seater turbo-prop aircraft which take some 30 minutes (from Baltra) of highly scenic flight, if the weather is favorable, to the small airport of Puerto Villamil. However, these flights are often cancelled at the last moment and thus become an unreliable option, plus the air fares are quite expensive.
The most common way to get to Villamil is by sea, either on public boat transportation, shared tour boats, or fully chartered licensed vessels, departing from and returning to Puerto Ayora in Santa Cruz Island. The boats range from basic (still with top attention to security and navigation) to slightly more comfortable boats equipped with powerful outboard motors that offer under-canvas seating, sometimes a small dining hall, a small toilet facility and storage space. The average sailing time on these vessels, depending on sea conditions, is between two and three hours. You can do a one-day visit or adhere to the most popular way of visiting southern Isabela, and fully enjoy it, which is taking a land-based or an "island-hopping" tour which can be pre-arranged from abroad, from mainland Ecuador, or even upon arrival to Santa Cruz or San Cristobal. In this case, you will still sail from Santa Cruz on one of the local inter-island licensed boats and spend one or more nights at one of Puerto Villamil's pretty hotels, from where you will undertake the exploration of the area at your own pace, suiting your own particular needs and interests.
TOURISM FACILITIES:
Puerto Villamil has a good and continuously improving hotel infrastructure, which goes from small inexpensive hotels, lodges and simple B&B's to comfortable and posh seaside hotels. In addition, the town counts with several local tour agencies and guide services offering a host of land and marine excursions in the surroundings. A few typical restaurants can be found offering local fare (based mainly on seafood), as well as a couple of internet and phone outlets, and a number of small to mid-sized vehicles, including open-sided local buses (popularly known as "chivas"), vans, minibuses and pick-up taxis for land transportation and expeditions. For water taxi services, tours of the bay and surroundings, and snorkeling or diving outings, there are differentiated fiberglass boats.
However, it must be kept in mind that much of the charm of Puerto Villamil and southern Isabela lies on its simplicity, unhurried pace and quaint atmosphere, and the long stretches of white sandy beaches.
MAIN ATTRACTIONS (WHAT TO SEE AND DO):
SIERRA NEGRA VOLCANO
For most visitors, this is the main highlight and a "must" visit. Sierra Negra is one of the five huge active volcanoes that form the giant island of Isabela, the largest of the Archipelago, covering close to 50% of the overall land surface of the islands. Sierra Negra is easily accessible from Puerto Villamil and is acknowledged as the second largest volcanic caldera in the world, some 12 kilometers long by 5 to 7 kilometers wide; second only to the legendary Ngorongoro crater in East Africa. Reaching Sierra Negra implies a 45-minute bus ride over a reasonably good two-lane road, ascending from the port's sea-level to close to one thousand meters of elevation, past several vegetation zones, from the coastal mangrove ecosystems to dry lowland forests, farmlands, transition forests and wet cloud forests. The scenery is changing and intriguing and features varied vegetation, from unique and rare endemic plants to prolific introduced species. Visitors get off the bus at a designated location, which serves also as a National Park control station, to engage on a gently steep uphill hike which may last an hour, walking on a dirt and rock trail through native vegetation, abundant tree ferns, lichens and mosses. From the volcano's summit, at about 1100 meters above sea level, the view is simply awesome: the giant caldera, with its floor mainly covered by endless layers of pitch-black lava flows, crisscrossed by volcanic fissures and small "islands of vegetation", shows in the distance some ancient sulfur mines, while to the south-east, a permanent "cascade" of clouds wraps that part of the summit and plunges down into the crater floor creating a magical visual effect. For those who have the time and interest, an additional one-hour hike over uneven terrain leads to Volcán Chico, an active parasitic cone at the northeastern flank of the main volcano, showing plumes of vapor, gases and sulfuric deposits.
HIGHLANDS AND FARMLANDS
The different vegetation zones present lush vegetation, unique plant species and good locations to scout for several species of the famous Darwin finches, mockingbirds and other land birds. A highlight bird of the area is the bright red vermillion flycatcher often adding an unusual touch of colored beauty as it performs its air-plummeting antics. Depending on the time of year, the dark-billed cuckoo may also be spotted, as well as the elusive Galapagos rail.
The farmlands offer views of banana plantations, coffee, cacao and citrus trees, mangoes and other fruits and farmed products, as well as some cattle. Organic farming is a current trend in the area. All sizes of ranches can be seen, of which some are being turned into tourist facilities, ingeniously designed to offer visitors nice rural ambiances for a stop to explore, lookout for giant tortoises and birds, enjoy a country meal, and share some time with the locals.
GIANT TORTOISES REARING CENTER
At one end of the town, the Galapagos National Park offers the chance to visit the "Arnaldo Tupiza" Giant Tortoise Breeding and Rearing Center. The facility includes several corrals featuring the ten identified and distinct populations of giant tortoises from the two southernmost volcanoes of Isabela, Sierra Negra and Cerro Azul, at different ages and conditions. A tour of the Center is certainly fascinating, utmost informative and a practical way to learn about some of the many phases of the work done by the Galapagos National Park Service. The tour includes views of the incubating areas where eggs that have been rescued from the perils of introduced animals in the wild are now carefully incubated, monitored and usually, when the tortoises are five years of age, released back in safety with monitoring devices for long-term follow-up of their behavior and survival in the wild.
WETLANDS AND FLAMINGO LAGOON
Just meters behind the town's waterfront there is a complex of wetlands and lagoons, where a good number of wading and shore birds can be found. The National Park has built a wooden-walkway surrounding the full length of the wetland complex, to protect the integrity of the fragile ecosystem as well as provide greater comfort and better viewing for tourists and particularly bird-watchers who find here a haven of species for their records. A short distance from the main complex, a separate lagoon hosts a resident population of pink flamingoes, a fascinating sight to see, whose group courtship displays are not infrequent and become an extra source of admiration. The flamingoes share this lagoon with scores of the Galapagos or Bahamas pintail ducks, black-necked stilts, purple gallinules, sandpipers and other lagoon birds.
LAS TINTORERAS:
A boat must be taken to reach this area right across the bay at the opposite side of town. This is a complex of lava fields and cracks, another popular visitors' site, with trails to observe fresh lava formations, some land birds and, along the rocky shorelines, scores of the unique Galapagos penguins, black marine iguanas, some blue-footed boobies, and the bright red endemic "sally-lightfoot" crabs. At a couple of narrow natural lava crevices, visitors can see in the crystal-clear waters some of the "tintoreras" who give the place its name, a local species of "white-tipped" reef sharks, peacefully resting in the sandy bottom, one more alluring sight.
At a small sheltered cove, snorkeling is offered for encounters with some of the islands' colorful fishes, eagle rays, an occasional sea lion and several sea turtles floating idly.
OTHER ATTRACTIONS AND TIPS:
Long stretches of sparkling sandy beaches can be enjoyed for plain swimming, surfing or just basking in the sun. Special tours can be arranged to the nearby Cuatro Hermanos or Crossman Islets for more advanced snorkeling or experienced scuba diving; caves and other historic places on land complement the menu of attractions available in this area. A crucial recommendation is not to wander inland or to the sea alone; always seek a licensed guide or reliable person who can give recommendations and advise on safety.