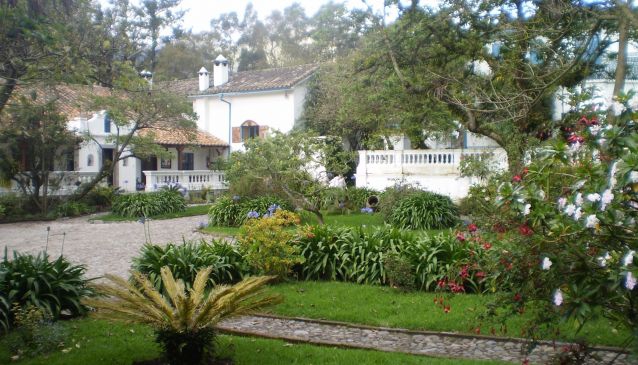 Ecuador's Haciendas
Adventure
The comfort of the facilities is paired with warm, hospitable and equally top-notch service.
One of the best travelling experiences in Ecuador nowadays is to visit one or more of the beautiful Haciendas which have been converted into luxury and first-class country inns. Most of them are found in Ecuador's Andean Region and can be reached from the capital city of Quito by highly scenic drives, lasting from less than one hour to a maximum of two and a half hours of charming countryside, framed by the stunning Avenue of the Volcanoes. Most tour operators today offer overnights, full days or breakfasts, luncheons and/or a variety of activities at one or more of these wonderful Haciendas. Several-day packages of "Hacienda Tours" are available and offer travelers a diversity of fascinating locations and experiences.
Following are some general tips about this very special tourism product which is booming in Ecuador and certainly provides visitors with outstanding natural, historic and cultural experiences, enhanced by high-levels of comfort, service and even luxury amidst charming rural environments.
SOME COMMON SPECIAL FEATURES AND CHARACTERISTICS:
The Andean Haciendas are not all the same and visiting more than one of them will not be repetitive due to the diverse locations, architecture, the natural and cultural surroundings, the activities available, the gastronomic specialties or their history and even the personality of their owners. However there are some common elements which make all of these Haciendas a truly special experience:
Most of them are centuries-old regal estates which date back to the days of the Spanish colony or the early Republican period and have been carefully restored to preserve the original architectonic style, layout, materials and decor. Many of them are even part of Ecuador's Cultural Heritage Inventory and Patrimonial estates. They also have served as temporary home to personalities such as top icons of the Independence, Presidents and many illustrious visitors and celebrities from all over the world. Some of them belonged to the Jesuit, Augustine or other Catholic religious orders and later became the property of aristocratic families and descendants of Independence heroes. At least one of them occupies the premises of a former Inca Palace and still features a fully preserved Inca wall.
They are located amidst magnificent landscapes, with the spectacular scenery of majestic snow-covered volcanoes, green valleys, and cultivated fields, and the sights, sounds and culture of Ecuador's Andes, its countryside and people. They have beautiful gardens, and in some cases several hectares of land featuring centuries-old trees, flowers, native plants and natural habitats for numerous species of birds and other wild animals.
All offer top-class accommodations: ample guestrooms with private bathrooms and all the amenities of urban first-class or luxury hotels, stately living rooms, reading rooms, dining rooms and social areas. The comfort of the facilities is paired with warm, hospitable and equally top-notch service. On most properties, the owners themselves are the hosts and provide visitors with the unequalled feeling of being their personal guests. Their staff at all levels is trained to the highest standards of international service and look after every need of the visitors, really pampering their guests.
They offer delicious food based on traditional cuisine and local products, each one featuring exclusive culinary specialties.
Most of them are productive Haciendas which carry on with their basic origins and roots: agriculture, organic farming, cattle raising, milk and cheese production, chocolate, coffee, sweets, vegetables, etc.
All of them are closely linked today with the neighboring indigenous communities with whom they have joint business ventures which generate benefits for all involved, fostering inclusion and integration of the local peoples and benefiting from their talents, skills, products, knowledge and hospitality.
ACTIVITIES:
While the setting of these superb Haciendas invite visitors to just relax and enjoy nature contemplation and great service, their natural surroundings also provide a host of activities to make the experience yet more enjoyable and even thrilling, depending on the likes of the guests. Following are just some of the many cultural, natural, gastronomy, adventure, or sporting activities which can be undertaken at or out of the Haciendas:
Horseback rides along scenic trails, from a few hours to multi-day adventures; Nature Hiking and Trekking; Camping; Mountain bike rides from light to hard-core; Zip-lining and rock climbing; Swimming in rivers; doing Water Sports at spectacular lakes; Trout fishing; Exploration adventures; Treasure-hunting; Stargazing
Learning about local history and legends
Visits to National Parks, Reserves and Natural Areas at the foothills of enormous snow-covered volcanoes
Bird-watching, botany tours, wildlife observation, interacting with llamas, vicunas or alpacas
Visiting a Condor Rescue Center and other Research and Conservation Centers
Doing gardening and visiting roses and other flower plantations
Participating of farm activities such as hand-milking, planting, harvesting, etc.
Visiting colorful Indian markets, fairs and picturesque villages; observing artisans at work and in some cases participating in the hand-crafting of knitted and embroidered garments and linen, hand-woven hats, wood carvings, ceramic objects, and other handicrafts
Grocery shopping at the marketplace with the Hacienda's Chef and observing or participating in the preparation of traditional recipes to be tasted during the meals; Cooking lessons; preparing (or just enjoying) local cocktails with exotic fruits and local ingredients and liquors
Participating of traditional fiestas and folklore events; Dancing to a local band and/or with a local dance group
Taking breathtaking train rides
Enjoying conventional Spa services or sessions of ancestral medicine and cleansings
Visiting thermal springs and resorts
Coastal Haciendas
Several Coastal Haciendas found on the inner lowlands of Ecuador's Pacific Coast do not offer lodging facilities (with a few exceptions) but are great locations for a different experience, fun-filled and interesting day trips from Guayaquil, the country's main seaport and commercial hub. Here you may admire the culture of the "montubios" (the native inhabitants of the inner coast); traditional rodeos, typical food and the unique opportunity to visit and learn all about a farm that produces for-export bananas, cacao, coffee, sugar cane and other similar products.
For more specific info, check-out our Haciendas accommodation section.
Also check our Things To Do section for activity options in Ecuador and our Practical Information for your trip.