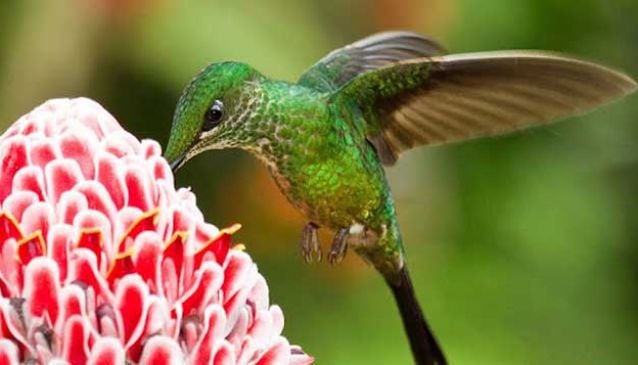 Hummingbird Heaven - An Eco Tour in Ecuador
Adventure
The frantic motion of their wings as they hover is the object of our admiration and excitement...
After a pleasant night's sleep, sunlight announces that a new day is beginning. It is quite early, just about six in the morning, yet the luminosity is intense and a sensation of joy invades me. Time to get up and get ready to explore one of the most outstanding Ecuador attractions: the Mindo Cloud Forest. Located on the western flanks of the Andes, the forest is just one and a half hours from the capital city of Quito. This is a magical ecosystem, defined mainly by the omnipresence of mist and clouds which bring abundant humidity and thus, a phenomenal diversity of fauna and flora to the lush green forests which cover the region.
Breakfast features tropical fruits from Ecuadorian cuisine, including bananas, pineapple, papaya, pitahaya and a variety of fruit juices such as "naranjilla", tree tomato and "mora" (a local type of blueberry). In addition to the food, breakfast becomes a superb visual experience as a friend and I, seated on a window-side table, cannot stop watching the incessant comings and goings of dozens of the most varied and unimaginably colorful species of hummingbirds. They roam about the external gardens of the rustic yet comfortable, well-appointed lodge and enjoy their breakfast at the honey-water feeders located strategically to attract them.
The lodge's owner had told us the night before that there are more than 40 species of hummingbirds recorded just on his property's premises. Some are considerably large in size, other minuscule and tiny; some sport straight pointed bills, others have rather sharp and more curved bills; all are adapted to feed from the nectar of the hundreds of flower species which abound in the area.
The hummingbird feast definitely distracts us from our own breakfast as every minute we see new and more startling color combinations… Dazzling greens, brilliant blues, sunshine yellows, oranges and rusty reds along with violet and purples. Invariably, it is the striking shine of their feathers which impresses the visitors, as well as their flight; the speed, the maneuvers they make, how they can completely halt in midair... The frantic motion of their wings as they hover is the object of our admiration and excitement. Bird watching in Ecuador is certainly not boring.
We hadn't yet moved from the lodge and we were already spectators of a fantastic natural show put on by the hummingbirds. The area is considered not just a hummingbird's heaven, but an ornithological paradise, with several hundred species of birds registered in the Mindo-Nambillo Ecological Reserve, one of many protected areas which cover about 22% of Ecuador's territory. Our fellow travelers were nature-loving Britons, Germans, Dutch, Canadian, some dedicated North American birdwatchers (who travelled to Ecuador specifically for the nature, and left the lodge before sunrise for better birding with a specialized guide) and a few Ecuadorians like us. Almost everybody carried binoculars and a host of cameras and video recorders, some downright sophisticated, others less so.
Entering the dining room, indoor areas and cabins requires removal of the shoes before going inside: a practical and clean practice. We were provided with rubber boots suitable for muddy terrain as we set off on our morning's tour, accompanied by the enthusiastic and knowledgeable Johnny, a young native guide, who was a magician at sighting birdsand other animals amongst the thick vegetation and high trees.
The two-mile circular trail takes us up and down slopes, across creeks and gorges, all while Johnny stops often to explain about some of the plants and their practical - and in many cases medicinal - uses; a fantastic mesh of mosses and ferns and magnificent bromeliad litter the forest. Some beautiful white and yellow orchids come into view as the morning advances, the temperature rises and we happily move along the natural trail, with our day packs, water bottles, cameras and outdoors gear, excitement increasing as we discover an explosion of life forms which teem inside this truly magical cloud forest. There is no question about how exciting and educational eco tours can be.
Love Luis's account of Ecuador's wildlife? You may find the following useful!
Things to do in Ecuador
Regional Information on Ecuador