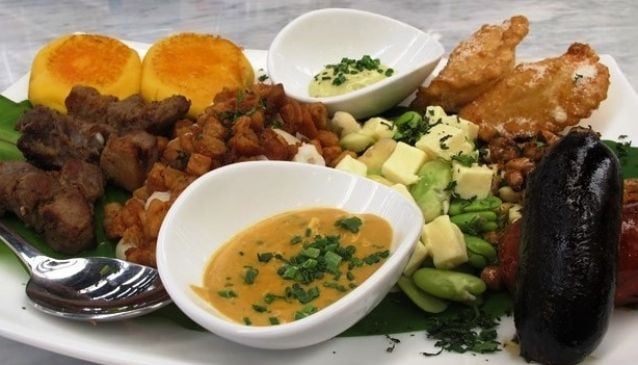 Exotic Flavors and Textures of Ecuador
Food & Drink
...a light and fresh appetizer of hearts of palm salad with small pieces of green papaya...
Ecuador is amazing and unique in many ways and gastronomy is one of them. Three totally different worlds: the Andean Highlands, the Pacific Coast flatlands and the landlocked Amazon Rainforest contribute with an immense variety of products: the perfect base to support an extremely diverse cuisine. I am having the visit of a good friend from London and his Spanish-born wife who are eager to taste Ecuador's succulent food and have challenged me to let them try as many different specialties as possible in one day.
So, today we take on a rather unique and exciting journey, just in and around Quito, through some of Ecuador's culinary sights, smells, flavors and aromas, tasting samples of some of the many food delights from the country's four geographic regions, including Galapagos.
We start early in the morning and head to the southeast of Quito to reach, in less than twenty minutes of modern motorway, the nearby town of Sangolqui. It is market day, so just seeing the fantastic display of colors and products whets our appetite. We are going to try a full-scale typical Andean breakfast and this is one of the best places for the purpose. A block away from the main square, a popular restaurant is already filled with hungry patrons, some of them truck drivers who have brought products to the market from other distant regions. Freshly brewed hot coffee is served and presented to us with big-sized homemade breads of delicate texture and yellowish color. The centerpiece of this breakfast is a large platter of "hornado", for which the town is famous. The dish is a very local recipe of thin but hearty slices of clay-oven baked pork, spiced with a local kind of vinaigrette, cilantro, chopped tomato and onions. The platter comes accompanied by two golden-fried potato patties filled with cheese and garnished with a fried egg and two small pieces of sausage. The unusual breakfast is complemented with a large glass of delicious fresh "tree-tomato" juice, a fruit which grows abundantly in Ecuador's Andean valleys.
As we unhurriedly enjoy the Andean breakfast experience, I tell my friends about the hundred varieties of other typical breakfasts which one can try in different locations of Ecuador, including the capital city itself. After paying for the amazingly low-priced super meal, we walk to the marketplace to stroll up and down its alleys, identifying the infinite variety of vegetables, fruits, beans, potatoes, meats and other products, not only from the Andes but also from the Coast, the Amazon region and the lush subtropical intermediate valleys.
We continue the journey admiring the fertile fields near Quito, which produce many of the delicacies we eat every day or on special occasions. We are making time to down the breakfast and ready ourselves for a hearty luncheon with a different theme: the Amazon Rainforests of Ecuador.
Leisurely driving back to Quito though the Inter-Oceanic Highway, we reach one of the capital city's most prestigious universities whose School of Gastronomy is making a special study to unveil the secrets of the Amazonian cuisine. So, by special arrangements and invitation, we are treated at the University's Kitchen-lab, to an authentic Amazonian luncheon: a light and fresh appetizer of hearts of palm salad with small pieces of green papaya is the prelude to a fantastic fish "maito", perhaps the most renowned Amazonian dish, whose main ingredient is meat or fish of different types, slowly braised in its own juice and herbs, and wrapped in a "bijau" leaf (a forest plant). In this case the fish is fresh trout from the Papallacta area, about an hour from Quito and one of the gateways to the Amazon Region. The dish is garnished with golden-fried fingers of yucca or manioc root and crunchy plantain chips, along with a small bowl of white rice. This time our beverage is a slight variation of the fermented "chicha" which is the main drink of the indigenous peoples of the Amazonian area. Dessert is also a slightly sophisticated variation of a tangerine sherbet served with small triangles of Amazonian dark chocolate. We say goodbye to our gracious hosts, Ana Carolina and her gastronomy students, and we head on for our afternoon's activities, which feature a visit to the Mindalae Ethnographic Museum in La Mariscal's popular neighborhood, a good way to connect the Ethnic roots of Ecuador's richly varied nationalities and peoples with their culinary specialties and products. Next, we visit the Ecuador Gourmet Gallery, where interesting displays of many Ecuadorian for-export goods can be found, including the finest aroma cacao, varieties of dark and white chocolate, gourmet coffee from the Galapagos; exotic tropical fruit jams, flowers and some world-class cheeses. Another short stop at the super popular Plaza Foch allows us for a late afternoon cup of delicious hot chocolate, prepared the Ecuadorian way, with mini "humitas" typical from Quito, melting corn patties served in their own corn leafs.
With a bit of a "smarter" look, we later set off for dinner. Having had an Andean breakfast and an Amazonian luncheon; dinner will be Pacific Coast and Galapagos. We choose one of Quito's many great restaurants, ready for our next culinary feast. We start with the delicious Ecuadorian Pilsener beer. Then we decide to do a "tasting" of coastal specialties, a platter to share which includes Guayaquil's signature crabs in their own juice; a Manabi (central coast) "corviche", mashed green plantain patties with fish; "encocado" shrimps, shrimps cooked in coconut milk from the Northern coast; a delicious Galapagos spiny lobster "ceviche" and a fantastic sea-bass in a wine and seafood sauce. The banquet needed, of course, the honors of a good wine. The grand finale was a coastal version of the sumptuous, flambéed "baked Alaska", an explosion of tropical fruit flavors, exquisite ice-creams and meringue crust.
In spite of the amount of food we have had, we feel great and I seem to have been up to the challenge: today's "marathon" trying some of the varied and delicious flavors of Ecuador's cuisine was a memorable experience which my friends enthusiastically pledge to repeat again.